Starting a website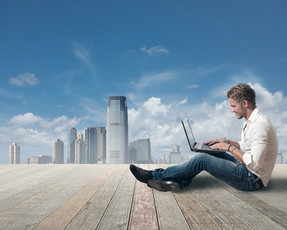 Planning to go about Starting a website on your own? While browsing the net, we must have come across a lot of sites which contain guides of a wide range of articles on how to start a website. But did we really find what we actually were looking out for, when we think of starting a new website?
We should get a variety of articles on issues faced by a webmaster and a few A-Z guides to get started but I failed to find any of them which would provide me with a Step by step guide. As a result, the newcomer would become perplexed as to which article he should read first and which next. Well, we have made an attempt to fill in the gaps by providing you with an overview of the web creation process from the beginning.
Get a Domain Name
The first thing we do, when we have a new born baby, is to think of a name for the baby. Likewise, when we are thinking of Starting a website, the first thing to decide on is the name. In technical terms, we call it as a domain name. A domain name is the name which you want to give to your website like we have given to our website namely "startwebsite.org". It is pretty simple to get a domain name, you only have to pay an annual fee to a registrar for the right to use that name.
But remember that getting a domain name does not mean that you get a website. It is only a "name" for your website which you are getting registered. It's just like getting a business name registered in the commerce world, and having a name does not mean that you've got a shop or a premise with the name.
How to decide on a good domain name can be discussed later in our other articles. Now to move on with our Step by step guide to Starting a website, you will need to know the steps to register the domain name and the things which you need to look out for, when getting the Website registered, and also some of the important precautions which you need to take while buying a domain name. This is only to ensure that you are not committing the same mistake which some of other newcomers have made while buying a domain name.
Select a Web Host and Sign Up for an Account
If web hosting is new to you, then to explain it in brief, a Web Host is basically a company which has many computers connected to the Internet. When you place your web pages on these computers, the whole world is able to connect to them and view them.
In order to do this, you may have to sign up for an account with any web hosting company so that your website has a home. Taking the same example which we have given earlier of a business, if getting a domain name is similar to getting a business name while Starting a website, then web hosting account is similar to renting office premises for the business.
You may have to deal with many issues which are involved in finding a good web host and the various things which you need to look for in searching a good web host. Once you get an idea of what to look for in a web host, you can search for the right budget web hosts.
To get the best deal in buying domain and Starting a website, click below:
Design the Web Page
You got the domain name and a web host but how to go about Starting a website? So now it is the right time to design the website itself. The following are a few tips which can help you in designing the website. But, if in case you are using a third party web designer, then you can probably skip this step.
Although there are many things which are involved in Starting a website but as a beginner your first step is to actually get something out onto the web. The other enhancements can be done at a later stage but the first thing to know is how to get a basic web page onto the site. One way is to use a WYSIWYG ("What You See Is What You Get"), a web editor. Such editors enable you to design your site visually without actually getting into the technical details. They word just like a normal word processor. If you don't want to shed money on the editors, then there are many website builders around.
Once you are on your way to design the website, you may have to concentrate on appearance, usability and search engine visibility as there will be some real time issues that a web designer might have to deal with. Search engine readiness is an integral part of the web design. You may have to start the search engine promotion just while Starting a website but not after the website is made. It is very important to create a search engine friendly website since the beginning and optimize the site accordingly. It is also essential to look for the ways where you can improve your search engine ranking especially on Google, as the Google is the most important search engine around.
There are a few other issues related to the web designing but for you, as a beginner, in order to get started, the above information will be helpful. However, if you have time after you have got something out onto the website and want to know more about web designing, then you can find a few other articles on web designing, website promotion and search engine ranking.
Promote Your Website
Once the site gets ready, the next step is to submit the site to the search engines, especially the most sought ones after search engine Google. But Google will not index your site, if there are no other links to your site on the web, and will be reluctant to display the results that include your pages.
This is the point where advertising your website becomes significant. Promoting the website involves many things like advertisements in the newspapers, word of mouth, hoardings, etc. You can choose internet also to advertise your site and various places.
To get the best deal in buying domain and Starting a website, click below: